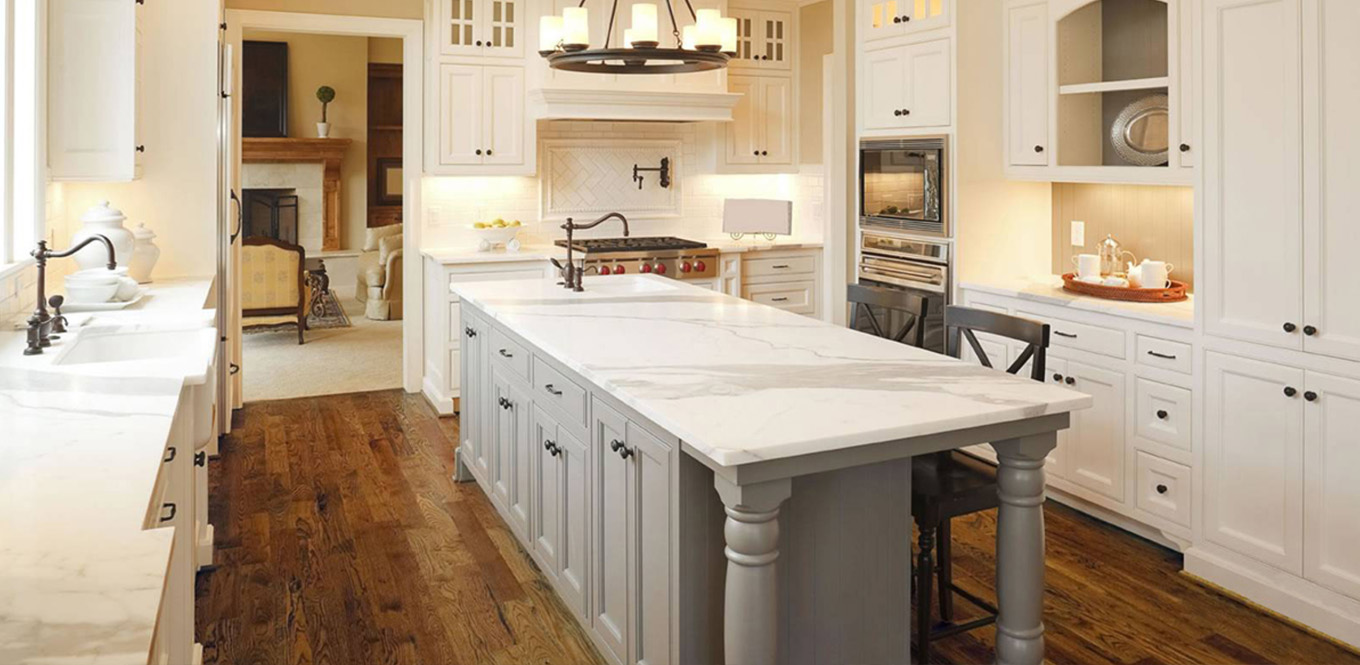 international stone gallery
The fastest growing Custom Countertop Fabricator / Installer in Buffalo, NY and Western New York!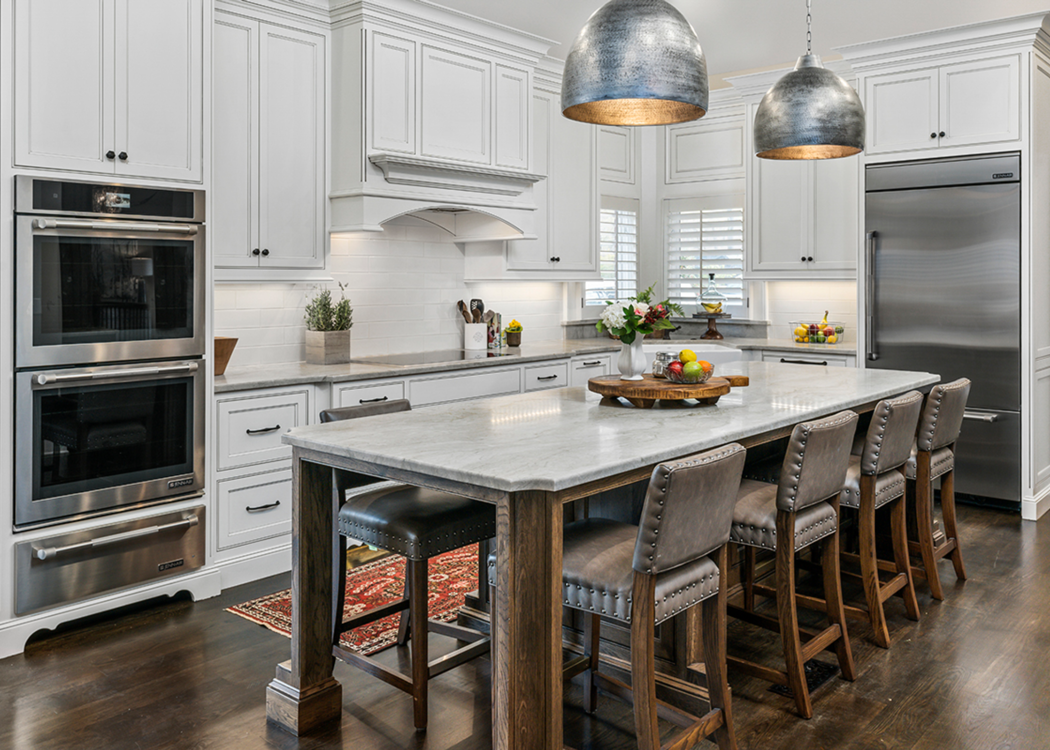 Marble is a metamorphic rock that forms when limestone is subjected to the heat and pressure of metamorphism. It is composed primarily of the mineral calcite (CaCO3) and usually contains other minerals, such as clay minerals, micas, quartz, pyrite, iron oxides, and graphite. Under the conditions of metamorphism, the calcite in the limestone recrystallizes to form a rock that is a mass of interlocking calcite crystals. A related rock, dolomitic marble, is produced when dolostone is subjected to heat and pressure.  Most marble forms at convergent plate boundaries where large areas of Earth's crust are exposed to regional metamorphism. Some marble also forms by contact metamorphism when a hot magma body heats adjacent limestone or dolostone.
marble colors
Hundreds of colors of Marble for selection
testimonials
Best place for granite countertop in WNY. Great selection, tons of colors, and amazing service. They did a wonderful job on my kitchen counter tops and bathroom vanities. I would definitely recommend them for any kitchen remodel big or small.
Christopher L.
This was our first experience with granite countertops and it has been a wonderful experience from start to finish.  Everyone has been professional and the countertops look great!
David D.
From start to finish I loved this service. My install was great and the price couldn't be beat! I would recommend this company.
Danise Wilson
A great experience with them. Not everything in a big project goes smoothly. The real test is how well they work with you to get things taken care of and work to ensure your absolute satisfaction. Well they have completely earned my trust as a top notch supplier. Their personal touch and care for the customer is why I recommend them highly.
Walter Stachura
The job done on our countertops by the installers was first class. We were very pleased with the results and are more than happy with the overall results. Thank You.
Fred Massa
Super company to deal with. Their prices are really fair and more importantly, the quality of the stone and the install was superb. I own Andrews Jewelers in Williamsville, NY and hired International Stone to put the final touch on our new store. I can't say enough about this wonderful company and the job they did.
Andrew Moquin
Amazing customer service! Great quality work!! Would highly recommend to anyone looking for gorgeous countertops!!
Morgan Brown
Great company to deal with! My kitchen and laundry room turned out better than I could have hoped for. They helped me choose the right stone after explaining the care of the various choices available. I get compliments from everyone that visits and can't wait to have them do more projects for me. They showed up when they said they would, were very careful as they maneuvered the slabs through my house and created very little disruption to my daily life.
theBrown7
LOVE MY COUNTERTOPS!
I'd like you to know that the entire experience was amazing. Chris (my sales guy) was so patient and knowledgable; as a first-time "designer" I really needed that.
The selection was huge! What I noticed right off the bat is that the big box store I visited only offered small squares of a product from which to choose. It is IMPERATIVE to be able to see the whole slab! I held my cabinet samples up to the slabs and POW, my choice was so much more clear. As a consumer I realized how competetively priced you are, taking into account all of the service, product and installation!
The gentleman who came to measure was incredible; his knowledge and questions made me feel so good about my decision. He didn't rush through the appointment.
Everyone in the office was always so nice whenever I called, and I very much appreciated the owner, Somers, seeking me out to introduce himself. Top notch!
At installation the guys were great: on time, polite and good at their jobs.
I recommend ISG to everyone! Don't even bother looking elsewhere…
Lisa Marie Allen
I love dealing with these guys. They are always so helpful from the start to the end of the project. I would give them 6 stars is I could.
Keith Zaccarine
We developed a crack between two pieces of granite installed by International Stone Gallery two years ago, so my wife called to see what we could do. They sent a tech to our house to resolve the open seam. From management, to the friendly office staff, to the efficient tech, we couldn't be more pleased with your outstanding customer service. Word of mouth also spreads in a positive way, we will be sure let everyone know the great experience we had with your company.
Lisa & Dick Batterson
My sister had a great experience with International Stone Gallery and after seeing her beautiful kitchen and laundry room, I just had to have the same. After years of hunter green Formica, it was time for a change. My experience was the same as hers-perfect! We both had nothing but positive experiences from start to finish and a beautiful outcome at a reasonable price. We were kept up to date throughout the process and the people that measured and the installers were on time, neat, and seemed very experienced. Their selection was huge-I don't know how anyone could not find something to love on their lot.
Jean B Andrews
Rated highly for: Responsiveness, Punctuality, Value, Quality
Staff were very knowledgeable, kind, and patient . My husband and I would certainly highly recommend this company and would frequent their establishment again….
Jen Herko
We had a great experience working with ISG! The stone we originally loved sold before we made a decision and they were able to find a very similar one and bring it in for us. The install crew was on-time, polite, and very professional. Highly recommend!
Anna Badding
Beautiful work and super customer service! We have had several customers visit ISG and the stone they chose was just gorgeous and installed in a very timely manner!
Lisa Blachura Braun
I've used this company a handful of times already and I plan to keep using them! They give a quality product and beautiful installations
Jay Jafari
International stone gallery installed granite counter tops in my kitchen and bathroom and did a great job!! We were highly satisfied from start to finish, everything was explained to us in detail and the installation did not take long at all and there was no mess left behind. The staff was extremely knowledgeable and polite. I would highly recommend them to anyone.
Lisa Goehring
A year and a half after install we had a seam fail. A call to International Stone and they had a tech out to repair the seam within a weeks time at no charge. The tech made sure to take the time to figure out why the seam failed and to fix it properly. It's nice to have a company that will stand behind its workmanship even after the check has been cashed. I would use ISG for future projects.
Pat Young
This is my first review ever. I had my granite vanity top installed just hours ago and I can't stop looking at it! It is beautiful and I can't say enough positive things about International Stone Gallery. They were phenomenal to work with. From expert help picking out my stone from the thousands of choices (and keeping in budget); to scheduling and on time installation. They worked with me on dates; called me a few days in advance; told me the guys would be here between 3:00 and 5:00; called again at 2:00 and said they were an hour out; and arrived here at 3:00. That NEVER happens! The installers were pleasant; in and out in no time and CLEANED up after themselves. Unbelievable! I have had ALOT of contractors in my house and always have a project going and I could not be happier. If you are in the market, I HIGHLY recommend International Stone Gallery.
Louise Joseph
International Stone provided great service over the entire process of picking a stone through install! They kept us updated on next steps in the project and were customer-focused from the sales staff to the templater and installers! We are so thrilled with our new, very unique kitchen counter and highly recommend working with International Stone on your next job!
Erin Crawford
Extremely professional operation, did a huge stone project for my new store. I couldn't have been happier with the quality of the work….nice people and very fair pricing.
Andrew Moquin
I can't express what a great job was done and the care and professionalism that was shown. I have recommended the shop to many never fearing that there would ever be a question on quality.
David Tuttle
Great job on the install! Granite is beautiful! We were super happy with finished product.
Sharolyn Gibson Verkest
We had Azul Platino granite countertops installed yesterday by International Stone Gallery. The countertops are beautiful and we love them. Everyone has been excellent, from the templater to the installers.
David Price
Hi my name is Brett Zuckerman my company is N- Line Tile and Design out of Tonawanda New York. I use International Stone Gallery for some of my jobs and just recently had my personal house done this company was awesome to use.Great service and I would recommend them to anyone…
Brett Zuckerman
We had looked all over Buffalo for granite and found exactly what we wanted at International Stone! There are 2 locations, and what is nice is most granite is outside and you can really see the colors and patterns. They did a wonderful installation and now we are doing our bathroom!
Darbi Rash
Very, very satisfied with every step of the project. Scheduling was superb! We love our new quartz counter!!
Patricia George
Thank you International Stone Gallery for taking such great care in cutting and finishing our heirloom piece of pink marble. Such nice people! Great Customer Service. We will be back!
Lynn Gaydica-Wuertzer
Thank you ISG for your outstanding customer service! Everyone on your team was very knowledgeable and professional. We love our new granite countertops! It was difficult choosing the final piece because you have such a large selection! They are all so beautiful! Thank you so much for making our kitchen remodel go so smoothly!
Caterina Vicari
I had a unique idea to use granite slabs for props for a Yoga Class ~ Root Chakra Grounding. I reached out to International Stone Gallery and I selected a few nicely squared pieces. They are not only gorgeous pieces but the staff at the Transit & Ridge Road locations were extremely helpful and were happy to assist me. I'm not only thankful for the beautiful selection but their kindness and excitement for my idea. When I'm ready for granite or quartz countertops, this will be my source!!!
Jan Marie
Installed granite for my customers new kitchen today. Could not be happier with International stone from how they treated me as a contractor, and my clients. From the sales staff, who gave me pricing with in 30 minutes. Templates were done with a laser, and my installers were Top Notch. Owner gave me a tour of his facility. I recommend using them on your next project!!! Thanks, Tony Capozzi
Tony Capozzi
I love our new countertops!!! Professional, courteous and ON TIME!!!
Krista Krueger Luce
Very nice and knowledgeable staff
Patricia Walchli 
Love my stones. So many to choose from, great customer service, couldn't be happier with the way my kitchen and baths turned out.
Stephanie Imerese Moss
Absolutely love the variety of stone they have! So many different, gorgeous ones to choose from! Very happy with their service and installation!
Chris Waters
Great people to work with. Countertops are gorgeous.
Rose Heist